Welcome to the Town of Palermo, NY
Monthy Meetings for March 2022
All meetings will be held at the Town Hall
Located at 53 Co Rte 35 Fulton NY 13069
REC interviews May 24th @ 6:30
March 31st @7pm- Regular Meeting
Planning Board Meeting
​​​​​​​​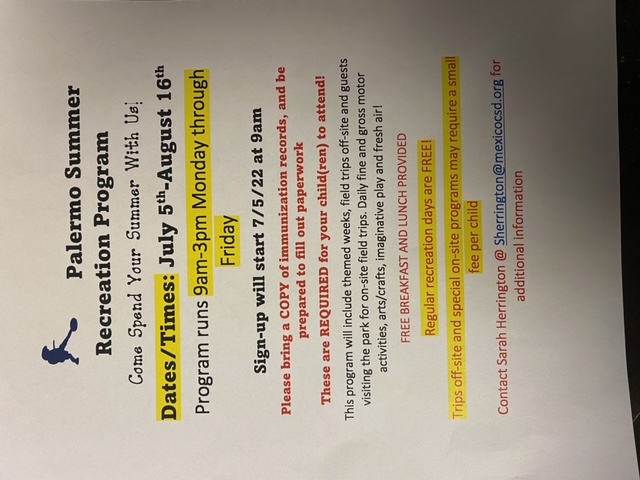 (Pursuant to section 506 and Article 15A section 1526, of Real Property Tax Law)
Notice is hereby given that the Assessor in the Town of Palermo, County of Oswego has completed the Tentative Assessment Roll for the current year. A copy thereof will be filed on or before May 1, 2022 with the Town Clerk's office.
The Assessor will be in attendance with the assessment inventory, valuation data and the above-mentioned tentative roll at the town assessor's office on County Route 35 on the following dates:
Monday May 9 (4 PM – 8 PM)
Saturday May 14 (4 PM – 8 PM)
Monday May 16 (9 AM – 1 PM)
Monday May 23 (4 PM – 8 PM)
Grievance day is Thursday June 2, 2022 between the hours of 4 PM and 8 PM in the Palermo Town Hall at 53 County Route 35. You may mail your complaint for review, but the complaint must be RECEIVED by the B.A.R. no later than the day the B.A.R. meets to hear complaints. You must fill out and file form RP-524 for every parcel you wish to file a complaint on.
IF YOU FILE YOUR COMPLAINT LESS THAN FOUR DAYS BEFORE THE B.A.R. MEETS THE BOARD IS REQUIRED TO GRANT THE ASSESSOR'S REQUEST FOR AN ADJOURNMENT TO ALLOW THE ASSESSOR TO PREPARE A RESPONSE TO THE COMPLAINT. THE FAILURE TO FILE YOUR COMPLAINT ON TIME CLOSES OFF YOUR RIGHT FOR ADMINISTRATIVE AND JUDICIAL REVIEW.
Dated the 12 day of April 2022
David J. Roach IAO, Sole Assessor
The Town of Palermo has openings for the
2022 Rec Program.
Every summer the Recreation Department looks for creative, high-energy employees to staff our summer Day Camp program. Applications are available at the Town Hall located at 53 Co Rte 35 Fulton NY 13069. To apply for a summer job, submit your completed application along with your resume to the Town Clerk no later than May 24th. Interviews will be held May 24th on or around 6:30pm at the Palermo Town Hall.
There are 5 positions for Onsite Counselors
Minimum Qualifications for Onsite Counselor: At least 16 years of age.
There are also 2 positions for Assistant Site Directors, must be age 21 or older.
Applicants must have a valid certification in CPR and First Aid. Applicants are encouraged to apply that have nursing experience with youth.
General Responsibility: To assist the Camp Director in performing his/her duties in implementing camp programs. To assist the Director with the adequate supervision of campers. To provide assistance where needed to Program Staff. Applicants must enjoy working with children. Ability to communicate with campers and staff. Good character, integrity, and ability to adapt to camp setting. Enthusiasm, sense of humor, patience and self-control.
​​​​​​​
This website is updated
frequently,
so please check back often and refresh your browser.
For quickest assistance, please call the Town Offices at (315) 593-2333 ext227
If there is no answer, leave a message and someone will contact you.
If there is a link you would like to see included on our website, please email the Town Clerk.
Thank you!
Check for the
U.S. Flag Status
We have been visted this many times since December 2016!